The queen is back
Beyoncé really must be considered the queen. I mean, she's no Britney but then neither is Britney these days.
I very much love the way Beyoncé returned. She always does it so well, nothing leaks, nobody really expects it but then she drops a song out of the blue in a far better way than anyone else does. And then last night she dominated the Super Bowl 50 halftime show when it was supposedly serial bedwetters Coldplay that were headlining.
Of course Chris Martin and co recently got Beyoncé to sing on one of their songs to try to stimulate sales, which it definitely will, but what I've enjoyed mainly about "Hymn for the Weekend" is the reaction in India to the video because it "doesn't reflect the whole of India". Check out this amusing guy:
Why does the white man not get it? India 2016 is not a land of snake-charmers, sadhus and nagins. Stereotype. #Coldplay #HymnForTheWeekend

— Zakka Jacob (@Zakka_Jacob) February 1, 2016
Yeah I agree. And also once when they made a video in England they didn't go to every council estate and also they didn't go to every Fish & Chip shop and I personally felt that by only showing a Black Cab and a London Bus and the River Thames it was a really bad stereotype of England. I personally feel that every music video made by the band called Coldplay should tour and show every element of whichever country it happens to be shot in. That's my very honest opinion.
The Super Bowl 50
It was obvious from the offset that Coldplay would be joined by Bey, and with that being the case it was also clear that she would probably steal their spotlight. And she did.
The halftime performance started OK with that "Viva La Vida" song which everyone has to admit is really rather good. Although I've never been a fan of such a brutal edit of someone's work, I suppose they only had 12 minutes or whatever. Then they started with one which I don't know but I kind of recognise. It sits slap bang in the middle of the road. I started to drift off. Something about Paradise? No good. Luckily I think that one was cut very short too. Then they dropped that one with the monkey in the video. I quite like it. It sounds like Maroon 5, but it's not a bad one.
By the end of this one we realised they definitely required a bit of help. Three middle-aged men pretending to play their instruments while Chris Martin prances around like the father he is won't ever hold the attention for too long. So then Mark Ronson pretended to do some scratching as he introduced the idea of an entrance by Bruno Mars, dressed head to toe in baggy pleather to perform a song they made together. I couldn't work out the connection between Coldplay and this song, but I'm sure there is one.
Enter Bey
By now we were seven minutes in and it was getting desperate. So then suddenly some little drummer boys starting hitting their little drums and out of the middle of them came the assured and frankly ethereal presence that Beyoncé has. She is just too far ahead of anyone else in terms of the whole package. Her song, her delivery, her stagemanship and her vocal are just not of the standard we have become accustomed to in the 2000's – except from her.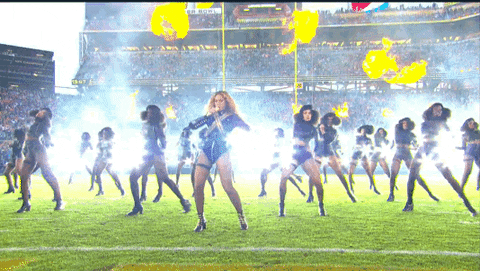 So she started doing her song and a bit of dancing which was good and that, then her and Bruno had a bit of a dance off, and she then nearly fell over but held it together very well, exhibiting an admirable amount of thigh strength, then Chris Martin came back in and they starting singing the line "Uptown Funky Walk, Uptown Funky Walk".
Once that finished Coldplay quickly broke into their emotional hit "Fix You" which was written about Gwyneth Paltrow when her dad died and they played a version of this set to a video of lots of past performers at the Super Bowl, most of whom are now dead. Chris Martin sang lines of their songs as they appeared on the screen. Then they all joined together with hundreds of kids on the stage and they started to chant some mantra about getting together or something.
Overall, it was OK, but not worth staying up to watch. Coldplay are unashamedly pop, and so they should be. Going against British Indie sensibilities in order to make millions and live in Hollywood – who wouldn't? But the band pale into insignificance against the majesty of Beyoncé. It was all a bit lightweight until she entered proceedings. There was also far too much screaming from the hundreds of selfie-obsessed brats that somehow managed to get onto the field, but that's not my problem.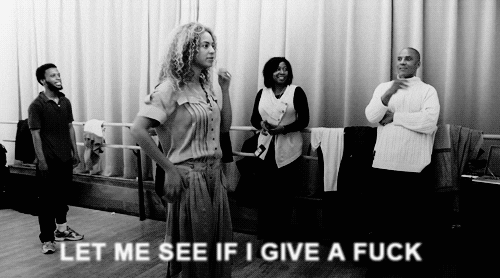 Formation
The day before the Super Bowl performance, she dropped the song Formation and the video, which pretty much broke the internet. Here's some stuff I like from out of the new song:
She thinks all the Illuminati stuff is untrue. Finally, I was beginning to think I was the only one. #jetfueldoesntmeltsteelbeams
She keeps a bottle of hot sauce in her bag. I believe this to be untrue, I feel she's more of a ketchup girl.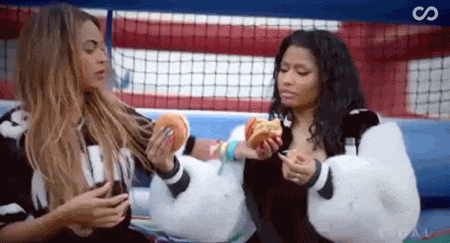 If you fck her good she takes you for a slap up meal to Red Lobster. Imagine what you get if you fck her poorly?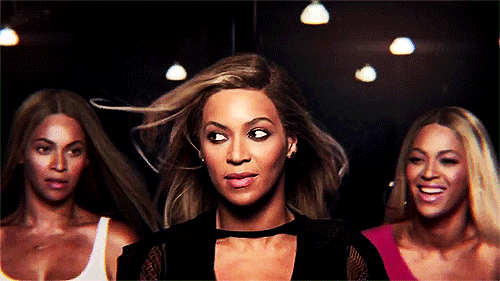 She put her whole family in the video, which is super cute. I admire a strong tight family unit. Nobody will have your back more.

She looks amazing. Obviously.
Her dancing is tremendous.