Last night a DJ ruined my life
That's going to be a 2016 neg remix of the song which is called 'Last night a DJ saved my life'.
An awful lot of musicians are fresh out of new ideas, so rehashing something old and making it current has, since the eighties, been the thing to do. I'll be putting my remix/re-edit up on my Soundcloud soon.
Dubai music is a pile of steaming camel shit. Let's discuss.
The DJ's
Mahiki. Nice venue. I enjoy "clubbing" here and I'm looked after very well, so for me I'm happy here. Thanks Mahiki. Both London and Dubai. Although I do prefer a free steady flow of champagne, not a treasure chest – which is basically a box full of booze with straws coming out.
The hygiene issues with these massive boxes filled with fruit and booze is a big concern of mine. I spend all night wondering how these are cleaned at the end of the night and whether someone uncouth has used my straw. So I usually end up just drinking tequila straight from the bottle.
I have "O chic D" remember? Anyway, I love you Mahiki. BUT the DJ. Looking at this from both the perspectives of someone who works with music and someone who is also LostItGirl (it means I like to go out drinking and dancing with my other lostitgirl mates), can I just say NO. I do not want to hear the first verse of my favourite song and half of the chorus. I want to hear my favourite song in full, I'll have choreographed my own dance routine to my fave songs that I'd like to perform for the lucky people around me.
I didn't even get to do the great arm dance I've invented for Drake's verse in 'Work'. I was livid.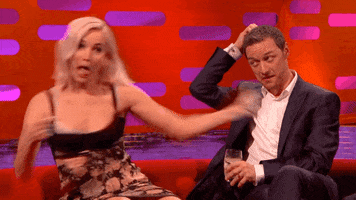 Beyoncé is my current musical spirit guide and 'Lemonade' is my current album boyfriend. Play all of 'Sorry' in full damn you. No I don't want to hear a remix of Adele. Nobody ever does. It's ok to play 50 Cent 'In da club', but don't just loop the "you can find me in the club" line over some other shit sped up house track. It's not impressive. You are not Calvin Harris.
You are there to entertain and make your audience dance and sing to the damn hits. (Dear DJ's, read this Christmas party blog where I discuss how to and how not to keep a mixed crowd of revellers entertained).
READ HOW TO DJ @ CHRISTMAS BLOG HERE
Yes it is hard when you have three generations in a club to entertain but it is very achievable. I wanted to slide into the DJ booth, but not to fck him, to throw a handful of my treasure chest at him and shout "Don't disrespect Drake, Rihanna and Beyoncé like this you bastard!"
I didn't. I just left. But I will give mad props to a Stormzy 'Shut up' remix (as that's what I was wishing he'd do) and for the fester skank. I enjoyed some of the UK talent, albeit old, but some UK talent is better than none. Even if we only have about four people to choose from.
The DJ at a bar called Lock Stock fully ruined my chic matching medium sized ears and it's doubtful I'll recover.
Drake into ACDC? You piece of shit. Did you just put your iPhone on shuffle and hope for the best? Well let me tell you old man. Your iPhone is a prick and you know nothing of music. But that's why Dubai is perfect for you. He was appalling. I lasted half a corona before being so upset by it I left with a flick of my hair and your audience got to watch my fat ass twist to the beat of some horrendous remix of an already shit song. Clean outta there.
DJ Snake @ Nasimi
An Open Letter to the support guy
Dear DJ,
I understand the pressure of warming up for DJ Snake. The guy produced the biggest song of 2015. Even I'd have felt that pressure too. But a mix of dubstep, drum n' bass, EDM and some other imaginary genre that nobody likes wouldn't have been the path I chose.
Here's a tip for you mate: there would only have been about 12 to 15 actual DJ Snake fans in the audience. The rest would know his name but nothing about him. Most people are too thick to even realise 'Lean on' was part his doing. Trust me I know this for a fact.
I know somebody who works everyday on entertaining people with music, and when we discussed DJ Snake's new song called 'Middle' and I commented how I liked that he had kept the laid back vibe of 'Lean on', the somebody looked at me and laughed in my face before saying: "It was Major Lazer you idiot!"
These are people who maybe should know better and even they don't. So a load of psychos who want to relive Magaluf circa 2001 are not gonna have a damn clue about the talent that is DJ Snake.
With that in mind, the nonsense you played wouldn't have been the way I'd have gone. But it's your gig and if you give people enough vodka they will dance embarrassingly to anything. So congratulations on your performance and when I get married you can be DJ. By the way, I'll call you today at quarter past never to discuss the details.
Up Yours Sincerely
Anyway DJ Snake was very good. As you'd expect from the professional he is. But by that point I had fallen in love with the fittest guy I've ever had the luck of making out with. He was so fckin fit I broke my rule of zero PDA in public. So I'm not that sure what DJ Snake was really playing. Wait, did he even show up?
Music is very, very bad in Dubai. If you are in the UK or USA can I just tell you that you have NO idea how lucky you are. We offer you up the best music in its fullest form and our radio stations play the biggest hits in full too. There is also a station that caters for your own taste, regardless of what it is. Yeah fine you'll find a couple of "hits" that are pretty shit but we will ram them down your throats so hard you'll end up liking them. God bless the US and the UK for being nothing like Dubai musically.