Now Beyoncé's back we all badasses again
The Queen has returned with a really amazing album (disregarding the tracks toward the end which are archetypal balladry and pretty sickening) and I am quenching my musical thirst on 'Lemonade' everyday.
I would say it's the return of the modern woman's Margaret Thatcher (she hates the north too? – ed). She's definitely the 21st century ruler of all women. Giving single women hope with her single ladies anthem (which she released as a married mother of one); or how about 'Who run the world, girls'? A brilliant number sampling an amazing track made by two men. And these are before we even delve in to the empowering back catalogue of Destiny's Kid.
What she says – goes
What Beyoncé says, goes. What Beyoncé does, we follow. She is the true leader of us all, and most people don't even realise it's happening. Since 'Lemonade' I've noticed a trend… We're all getting our inner Sasha Fierce back.
I know I have. I've been blocking guys left right and centre with zero fcks given.
Oh you think you can just use me and then we gonna stay friends? No buddy it don't work like that. Beyoncé wouldn't do that. Block.
Oh you gonna go from texting me often to radio silence. No way fella. Beyoncé wouldn't stand for that. Block.
You want me to chase you? No way pal, you wanna see me? You can man up and ask me. Beyoncé wouldn't sit on her fat ass furiously chasing boys via her iPhone. So why should I?
You think you can hook up with me then give me the "I don't want a relationship" talk. And you want me to hang around? Block.
Unread
I've been leaving messages unread (well I mean if you can see the message on WhatsApp without having to open it, why would you?), and I'm leaving shit blue ticked too. I'm not replying to any messages where I judge the recipient as showing precisely no interest in me and my welfare. I'm blocking. There's no need to keep the lines of communication open just so you can bore me more or act like a douche bag.
This behaviour is all down to Beyoncé.
You just know this girl listened to 'Lemonade' before she did this. I'd put the contents of my bank account on it.
In 2016, sadly bitches still do have it pretty bad. We've been through the perils of being a woman many times within this blog and it's often put down to the fact that women hate other women and nothing more. But hey, let's not go there again…
However, when Beyoncé comes back onto the scene, manipulating us all with her magical ways, we all stand in formation like: 'Yes queen, we are ready B, what shall we do?'
Big Hair Do Care
Big hair, big attitude, big earrings, big asses we ain't afraid to slut drop with, and a big badass fck you attitude.
The trouble comes as we discover that sadly we ain't Beyoncé and it's really tough out here for a normal bitch.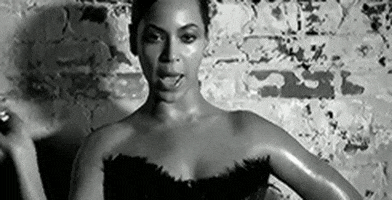 Beyoncé's ok in her early thirties, millions in the bank, kid, marriage and successful career.
The rest of us not so much. So while we are running around acting like Beyoncé it may do us good to remember that we're not actually her.
Maybe telling your boss to suck your balls isn't a great idea. But certainly take inspiration from the "I ain't sorry" vibe.
Mixed Messages
And totally don't take any shit from doofus asshole guys, even if Beyoncé did take back a cheating guy.
This is the confusing part, because we're not sure if we are taking shit from guys now or not, Beyoncé.
Personally I'm not. Life's too short and we ain't getting any younger. I'm staying in my Sasha Fierce zone until I'm bored of 'Lemonade' and not thirsty for that anymore.
Bye